* This post is sponsored by our partner iHerb. The opinions and information presented here are all ours.
As someone with chronically dry skin, I'm always looking for great moisturizers to keep me from looking like a lizard. But, whenever I'm out shopping it seems like every moisturizing product I pick up off the shelves is filled with harmful ingredients like preservatives, parabens and other not-so-friendly ingredients. The solution? I finally decided to just DIY it.
Making your own body butter is not only easier than you think, but you can also know exactly what ingredients you're putting into it. This way, you can stick to good for you all-natural ingredients, that will nourish your skin without any harmful toxins, or synthetic ingredients. Plus, homemade body butters are incredibly moisturizing, as they can quickly melt and absorb into your skin.
For this recipe, all ingredients I used are from the Aura Cacia brand. Aura Cacia offers a wide selection of high quality organic and natural essential oils and nut oils. Just pop the cap off these products and your nose will tell you that the quality here is amazing.
The ingredients you'll need for this homemade body butter recipe are unrefined shea butter, cocoa butter, apricot kernel oil and sweet almond oil. To make it smell amazing you'll also need a few essential oils. To make things simple, you can order all your ingredients from iHerb.com, our favorite natural food and supplement website. They have everything you need, they ship lightening fast and their prices are super. What more can you ask for?
Here's what you'll need:
Shea Butter
Simply incredible for your skin, unrefined shea butter has healing and protective qualities for the skin. Naturally rich in Vitamins A, E, and F (omega 6 fatty acid), shea butter is a natural fat that is pressed from the nut of the African Shea Tree.
Vitamins A and E keep skin clear and healthy and can work wonders for sun damaged skin. They help prevent fine lines and wrinkles too. Vitamin A can help improve skin conditions, like acne, wrinkles, eczema, and dermatitis. Vitamin F acts as a protector and can rejuvenate and soften rough, dry or chapped skin.
Shea butter has been shown to have anti-inflammatory properties (bye-bye redness) and quickly absorbs into the skin creating a protective and moisturizing barrier. Shea butter's high levels of oleic, linoleic, and stearic acids have shown in studies to be protective for your skin in its daily battle against environmental toxins. Shea butter can also promotes your skin's healthy turnover of fresh new cells, encouraging healthy toned skin while improving elasticity without clogging pores. Shea butter has pleasant, nutty scent and is hard at room temperature.
Recommended Product: Aura Cacia Organic Shea Butter (3.25 oz.)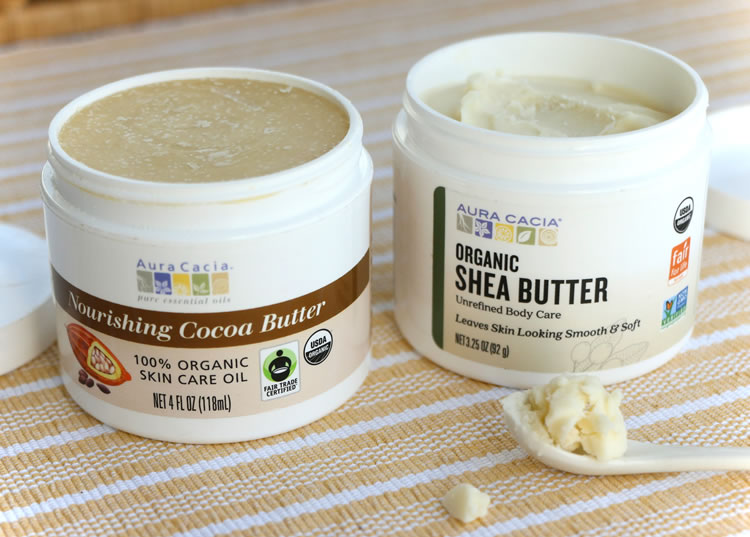 Cocoa Butter
Great for dry and sensitive skin, Cocoa Butter is a rich fat extracted from the cacao bean. And if you suspect it kind of smells like chocolate, you're right. Cocoa Butter is hard at room temperature but easily melts into the skin, naturally moisturizing and soothing dry, sensitive areas while minimizing the appearance of scars and dark spots. Like shea butter, cocoa butter is also packed with vitamins like Vitamin E, K and omega-fatty acids, and antioxidants that all work to reduce the appearance of wrinkles, age marks, and scars while protecting against harmful UV rays from the sun. The antioxidants in cocoa butter called polyphenols have also been shown to improve skin tone and elasticity by hydrating while promoting the production of collagen in the skin.
Cocoa Butter is an anti-inflammatory fat and can relieve itchy, irritated, swollen or red skin while soothing burns and rashes. Remember how I said it smells kind of like chocolate? Cocoa Butter is believed to naturally boost the immune system by promoting relaxation and lowering stress.
Recommended Product: Aura Cacia Nourishing Cocoa Butter (4 oz)
Sweet Almond Oil
Another healing and antioxidant rich oil that's llight and easily absorbed by the skin, sweet almond oil is extracted from – you guessed it – almonds. Sweet almond oil is well known for its ability to protect the skin against UV damage from the sun as well as its skin hydrating qualities. A medical study in India found sweet almond oil can both help to protect against UV damage before and after exposure to the sun's rays. (14) The vitamin A in sweet almond oil can help fend off acne. Sweet almond oil is safe for those with sensitive skin and can help relieve the inflammation of skin conditions like psoriasis and eczema. Try using sweet almond oil as a natural makeup remover while getting the skin healing benefits of this oil.
Recommended Product: Aura Cacia Nurturing Sweet Almond Skin Care Oil (16 fl oz)
Apricot Kernel Oil
Pressed from the pit of an apricot, apricot kernel oil is high in vitamin E and vitamin K, while also being rich in powerful anti-aging antioxidants protecting the skin against damage from free-radicals. The result is tight and toned skin, while the appearance of age spots are diminished.(4) These antioxidants may also help protect against skin cancer. Apricot kernel oil has anti-inflammatory properties which can help calm acne breakouts without clogging the pores as well. (5)
Recommended Product: Aura Cacia Rejuvenating Apricot Kernel Skin Care Oil (16 fl oz)
Peppermint And Assorted Citrus Essential Oils
Since this is a Citrus Mint Body Butter recipe, to keep things natural I used essential oils to give it a delicious scent. While peppermint essential oil in this one is kind of a must, you can use a combination of citrus essential oils that appeal to you like orange, lemon and lime. If you'd like to stock up on some citrus essential oils Aura Cacia offers a wide variety of high quality essential oils to choose from including organic oils. Not only do they have the usual citrus suspects like lemon, lime and grapefruit, but they also have quite a few varieties of orange essential oils like sweet orange (organic), blood orange (organic), mandarin and tangerine.
For our body butter we used lime, tangerine, sweet orange to blend with the peppermint. While you don't have to use that exact citrus combination, choose 2 to 4 of the citrus oils listed below to blend with peppermint.
Here are some of the super essential oils used in this body butter recipe that are offered by Aura Cacia:
Peppermint Essential Oil
Peppermint – Organic Peppermint Essential Oil (by Aura Cacia)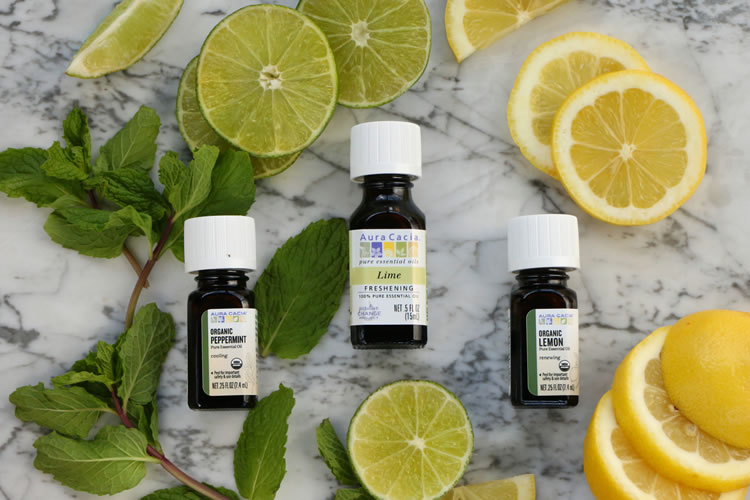 Citrus Essential Oils Other Than Orange
Grapefruit – Organic Grapefruit Essential Oil (by Aura Cacia)
Lemon – Organic Lemon Essential Oil (Aura Cacia)
Lime – 100% Pure Lime Essential Oil (by Aura Cacia)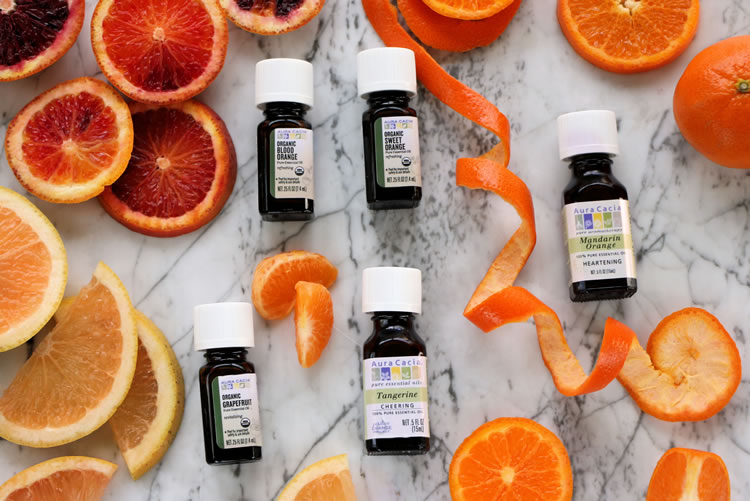 Orange Essential Oils To Choose From
Blood Orange – Organic Blood Orange Pure Essential Oil (Aura Cacia)
Sweet Orange – Organic Sweet Orange (by Aura Cacia)
Tangerine – 100% Pure Tangerine Essential Oil (Aura Cacia)
Mandarin Orange – Mandarin Orange 100% Pure Essential Oil (Aura Cacia)
Mint Citrus Whipped Body Butter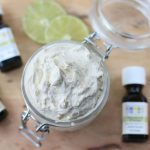 This body butter is nourishing to the skin, absorbs quickly and is not greasy at all. Your skin will be soft and hydrated in no time, while the peppermint and citrus essential oils will uplift your spirit.
4 ounces Aura Cacia Shea Butter 3.75 ounces Aura Cacia Nourishing Cocoa Butter 1/2 cup Aura Cacia Apricot Kernel Oil 1/2 cup Aura Cacia Sweet Almond Oil 15 drops Peppermint Essential Oil 15 drops Lime Essential Oil (optional) 15 drops Tangerine Essential Oil (optional) 10 drops Sweet Orange Essential Oil (optional) 10 drops Lemon Essential Oil (optional)
Empty the contents of both containers of the shea butter and cocoa butter in a small clean saucepan on medium low heat until just melted. These are hard butters and you may need a sharp knife to remove them. Be careful! Remove from heat immediately and pour the mixture into the bowl of your stand mixer.
Tip #1 : Instead of placing the oils directly in a saucepan, create a double boiler by placing 1 cup of water in a saucepan big enough to allow the bowl of your stand mixer to rest on top of the pot. As the water boils, the steam will gently warm the bottom of the bowl, melting the oils. Remove from heat and continue with the next steps. This will save you from having to wash your pot.
Stir in the sweet almond oil and apricot kernel oil. Place in the refrigerator to cool so the oils can just begin to solidify again. To speed things up place the bowl in the freezer. It will take about 1 hour in the fridge or 30 minutes in the freezer.
Tip #2: If you like a harder or lighter body butter, simply adjust the amount of sweet almond and apricot kernel oils used. More with result in a firmer body butter and more will result in a lighter end product.
When the oils are almost solid, but not super hard (no liquid oil left) blend the mixture with the whisk attachment on your stand mixer. Now's the time to add the essential oils. You can add more essential oils later if you would like to adjust the scent. Whip until the mixture looks creamy like whipped cream (5-7 minutes). If it looks grainy you haven't whipped it long enough.
Tip #3: You really can't over whip this. The longer the better, and the more luxurious and creamy it will become.
Once the mixture is light, creamy, and whipped place in a glass jar of your choosing. Two 8 ounce jars should do the trick. You can also reuse the jars the Aura Cacia Shea and Cocoa Butters came in, but there will be more cream left over.
5. Enjoy your silky smooth Citrus Mint Body Butter!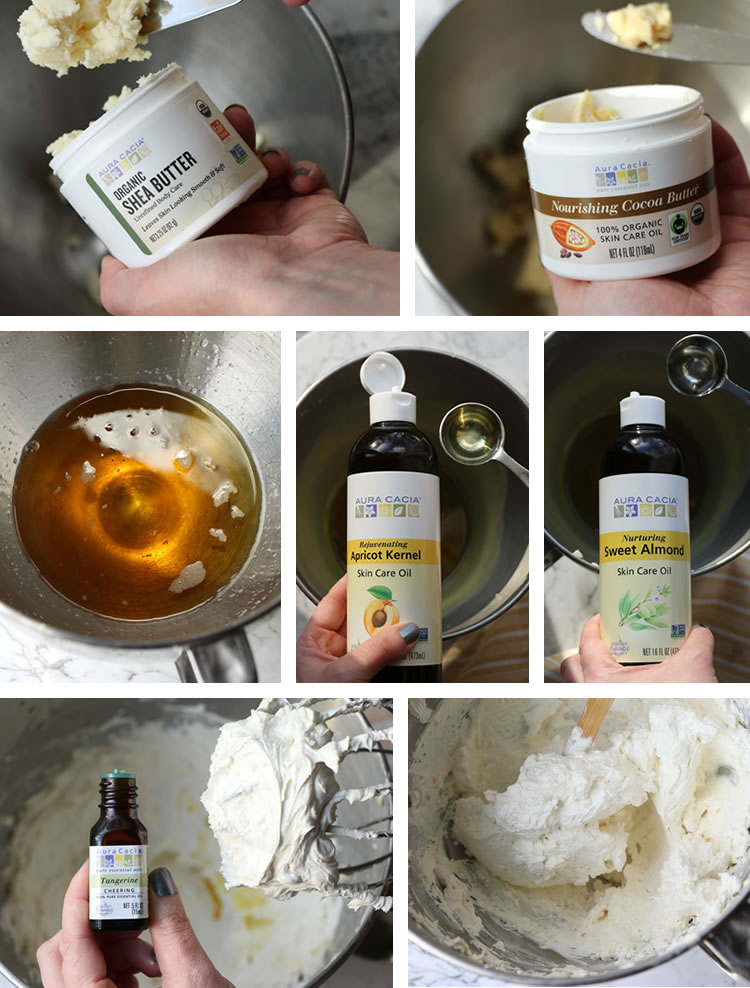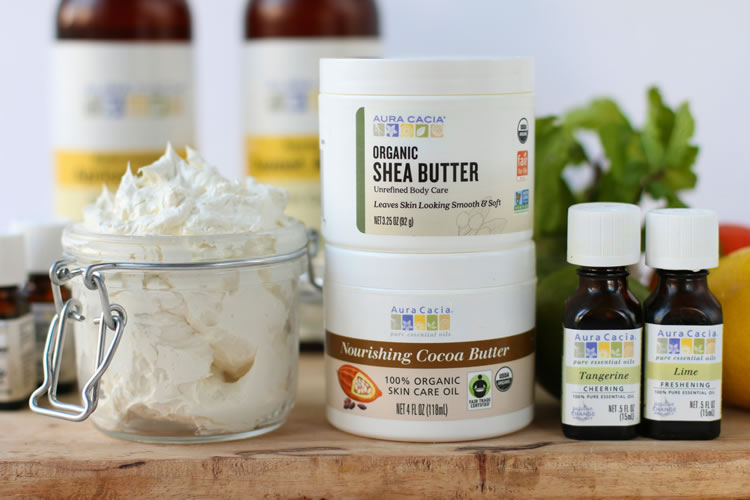 Did you know….??? Here's Some Amazing Facts About iHerb! We love shopping at iHerb! iHerb's prices are amazing and they ship quickly too! Here are some other incredible things to know about iHerb: iHerb sells over 30,000 natural products and ships to over 150 countries! iHerb offers customer service 24/7 with support in 10 different languages! iHerb orders are shipped from climate-controlled distribution centers to ensure the quality and freshness of their products.
Want To Make Your Own DIY Healthy Body Butter? Head over to iHerb for the ingredients with this special iHerb offer!
Returning customers, can get 5% OFF your iHerb Order, and New Customers can get 10% OFF your 1st iHerb order by clicking here!
Do you have a favorite essential oil scent or blend to use for spring? Let us know in the comments which is your favorite.
Read more: onbetterliving.com